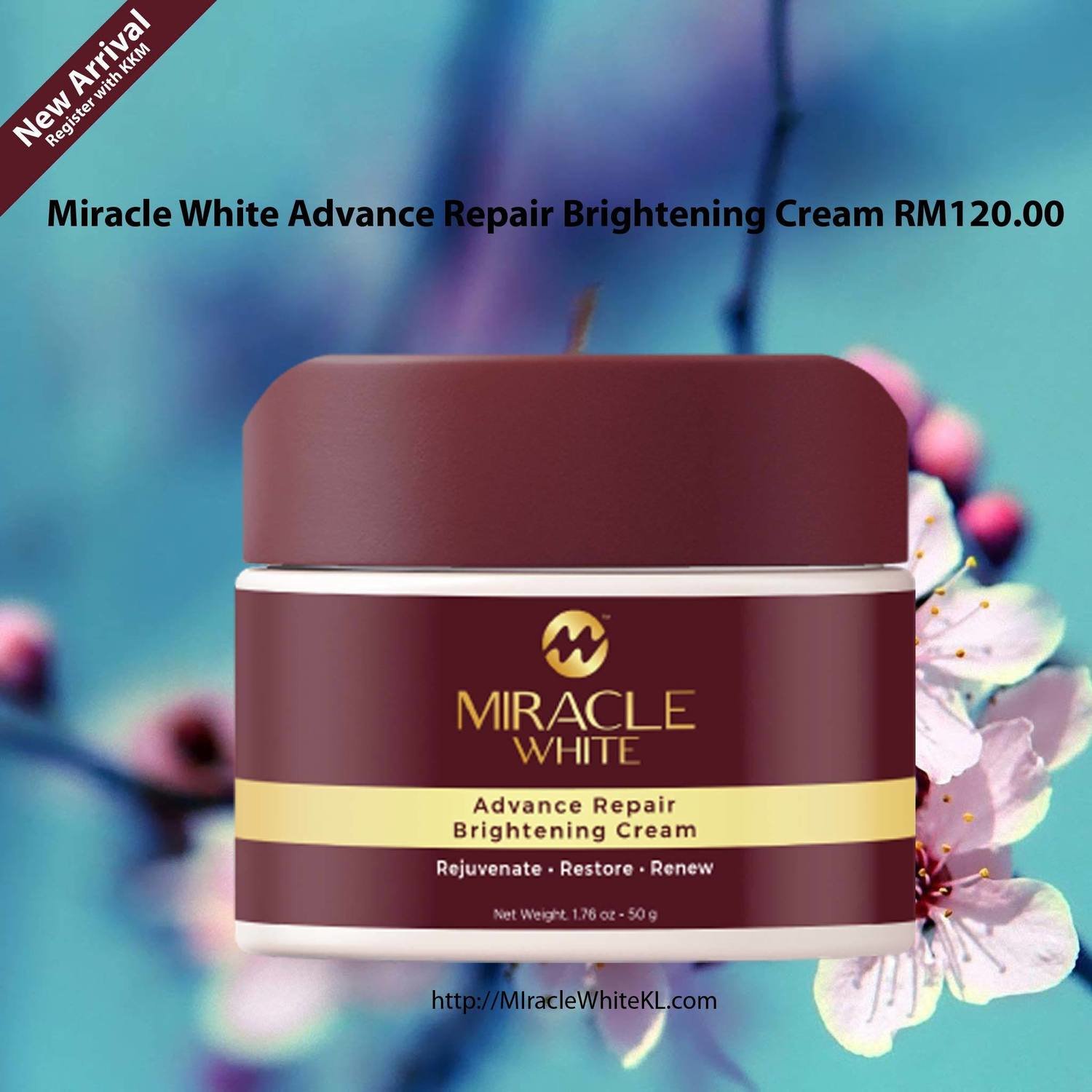 Miracle White Advance Repair Brightening Cream
SKU MW-001
Product Details
WEIGHT : 50 g

PRICE : RM 120.00
Miracle White Advance Repair Brightening, all in ONE cream is specially formulated to give your skin the effortless care and translucency that it requires. Miracle White Brightening Cream is the nature's best gift to assure flawless beauty for years intact. It provides blissful moisturizing, skin softening and anti-aging effects by replenishing, repairing and rejuvenating your skin cells.
Benefit:
1. Radiance
2. Softening
3. Anti-Inflammatory
4. Hydrating
5. Repairing
6. Ultra Moisturizing
Usage Direction:
1. Wash your face delicately
2. Wipe your face gently
3. Apply reasonable amount on your skin
4. For best results apply twice a day
Main Ingredients:
1. Aloe Vera
2. Jojoba Oil
3. Bearberry
4. Vitamin B3
5. Vitamin C
Other Ingredients:
Aqua, Stearic Acid, Cetyl, Caprylic, Acetyl hexapeptide-8, Polysorbate 60, Glyceryl Monostearate, Zinc Oxide, PEG-100 Stearate, Mineral Oil, Kojic Acid, Titanium Dioxide, Dimethicone, Fragrance, 4-Hydroxybenzoic Acid Methyl ester, Potassium Metabisulfite, 4-Hydroxybenzoic Acid Propyl ester, Tocopheryl Acetate.
#miracle #miraclewhite #brighteningcream #miraclewhitecream #whitecream #miraclewhitening #jeragat #mencerahkan #jerawat #creampakistan
Save this product for later